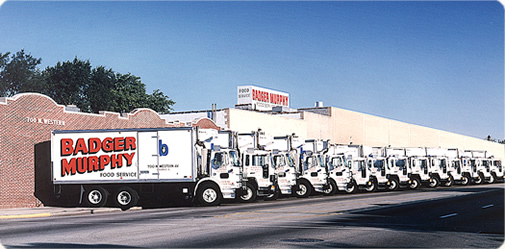 Badger Murphy Food Service is Chicagoland's brand name, full line food service distributor!
Customer satisfaction will always be our primary goal! Quality products, professional service, timely delivery and competitive pricing are just a few of the things you can count on. Badger Murphy will deliver the goods!
Chicago area businesses trust and rely on Badger Murphy as their distributor of choice. Hotels, Bakeries, Country Clubs, Restaurants, Manufacturers, Retail, Institutions and many other businesses benefit from our winning combination of quality, service and pricing!
A knowledgeable sales representative will assist you with your decision-making.
Our friendly customer service staff will help make ordering easy.
A fleet of refrigerated trucks makes weekday deliveries throughout the Chicagoland area.
Our warehouse is open for product pickup weekdays from 5am to 4pm.
Thousands of items are included in our product catalog and new items are being introduced all the time. We offer a full line of frozen foods, meats, poultry, dairy, disposables, janitorial supplies, dry and canned goods. Please look through our product catalog carefully. You might be surprised to find new items that may be very useful to your business or organization. In the event you can't find something you need, all you need to do is give us a call at 773-276-7200!
We feature many useful services and tools that benefit our customers:
We maintain a 24-hour telephone line for emergency ordering.
Upon request, we send out weekly pricing to your fax or email system.
Many seasonal promotions are available to end-users.
Help with menu ideas and alternative products.
A wide variety of usage reports are available upon request.
These are just a few of the many value added features we provide to our customers. Ask your sales representative for additional information about these and our other services.
Badger Murphy Food Service has over 50 years experience in servicing the Chicagoland food industry. We will continue to meet the challenge of providing our customers with top quality products and friendly, professional service! Let Badger Murphy be your distributor of choice!
Call us today at 773-276-7200 and see for yourself the difference we can make!